Their Thoughts:

ERIC: Pendulum was us living out the famous quote "It was the best of times, it was the worst of times." Children were being born, parents were dying, the ups and downs of relationships were dizzying and, as always, the business side of the equation was anything but a steadying influence. Many of the songs came directly out of what we were going through. I will never forget the two of us in Dan's living room silently passing verses for "Crossing Over" back and forth, both of us too overcome to speak. In the recording process, we had a group of people together who were very much on top of their game. We were inspired by great players and a producer who was more skilled than ever and still enthusiastic and driven in a way that made us reach higher than ever. This particular record gets better and better for me as time goes by.

DAN: We had spent a lot of time dealing with family matters, and found ourselves behind schedule. A change in climate at the label also put extra pressure on us, as every detail was scrutinized and questioned, even though the players had worked with Bonnie Raitt, Bob Dylan, Rod Stewart, Bruce Cockburn and others, Jim Scott was about to win a Grammy for engineering Tom Petty, and we collaborated with gifted writers like Gretchen Peters, Billy Steinberg and Jules Shear. But the greatest irony was in the prophetic duality of the title track, for which we had to fight to get onto the album! And though it is my favorite of our records, it remains our poorest selling studio release.
Produced, Engineered and Mixed by Jim Scott
String arrangement on "Spring Is Late This Year" by Tammy Rogers and Richard Dodd.
Rhythm arrangement on "Spring Is Late This Year" by Roland Box.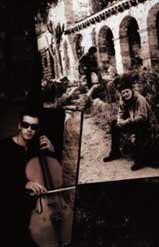 Recorded April 24 - May 13, 1995 at the Clubhouse, Burbank, CA. Not assisted by Frank Gryner.
Mixed May 30 - June 8, 1995 at Master Control, Burbank, CA. Assisted by Jeff Robinson.
Mastered June 23, 1995 by Stephen Marcussen at Precision Mastering, Hollywood, CA.
Eric Lowen - Acoustic, electric, slide, and 12-string guitars, vocals • Dan Navarro - Acoustic and high-string guitars, percussion, vocals
James 'Hutch' Hutchinson - Bass, vocals on "Spring Is Late This Year" • Kevin Savigar - Piano, organ, accordion, and keyboards Don Heffington - Drums and percussion • Richard Dodd - Cello • Tammy Rogers - Violin • Greg Leisz - Lap steel and pedal steel guitars
Horns
Jim Goodwin - alto sax
Crecencio Gonzalez - trombone
Dan Navarro - trumpet