Somewhere Far Away - 4:08

She Don't Care About Time* - 2:23
Listen - 28.8
Listen - 56k - ISDN

The Spell You're Under - 4:30

Oh Mary - 3:57

Water Over Fire* - 4:05

Something to Believe In* - 4:00
Listen - 28.8
Listen - 56k - ISDN

Love Will Return* - 3:47

Seven Bridges - 4:56

Walking On A Wire - 3:52

C'est La Vie - 2:59

We Belong - 4:17

*Previously unreleased



Live Wire



Intersound Records 3595

Their Thoughts:

Dan: After starting L&N in 1988, we held off playing Hollywood for a full year. Club Lingerie, who had booked our previous band, 20 Times, began inviting us in mid '88. When we felt we were ready, we played this show to a packed house on January 31, 1989, with headliner The Apostles' Charlie Colin on bass (ten years later he would resurface in the Grammy-winning band Train. The existence of this record is real testament to engineer Rik Reeder, who had the foresight to pop in a cassette. We traded him a blank tape a week later as "payment" for his gesture and it became a car stereo staple of ours for years.

Eric: In late 1989 when we played the show that became "Live Wire" it probably seemed like just another hometown show. The fact was, we had never gone out on the road. Although we had performed on records for other people, we had never made one for ourselves. We didn't have too much of a reputation to live up to. We were having way too much fun. That one fact hasn't changed. . .we still are.
The latest triumph in Lowen & Navarro's career is the release of their CD Live Wire. "In 1989 we were looking for our first record deal," Eric said. "We did a show at Club Lingerie in L.A. and an executive from Chameleon Records saw us and signed us based on that show." And that show was recorded and promptly put on the shelf. Fast forward to 1996 and L&N's manager, Mike Gormley hears about the tape midst a casual conversation with Dan. "Next thing we know that show is a CD called Live Wire and is available only on our Web Site," according to Dan. Within months such national chains as Best Buy, Borders and Record and Tape Traders are ordering it on time for the Christmas season. "Suddenly Eric, Mike and I are running this cottage industry", laughed Dan. Due to demand it has since been licensed to Intersound Records for national distribution and is now available in all stores.
From the CD:
This show marked our debut at a front-line Hollywood nightclub, the Club Lingerie on the Sunset Strip. Once known as the Soul'd Out, it is the oldest continuously operating nightclub in LA. The standing-room crowd included friends, family, our first reviewer, the president and promotion rep for our future label, Chameleon, and any human being foolish enough to take our calls, open our mail or accept our hand-drawn discount tickets. On the night, we were excited, awkward and not a little bit terrified. Once onstage, we simply closed our eyes and jumped. It was a watershed concert for us, the first to show us we could really "do it". This recording, taped as an afterthought by the house sound mixer, has been a favorite of ours for years. We hope you enjoy it.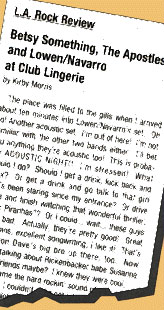 Eric Lowen & Dan Navarro - acoustic guitars & vocals
Charlie Colin - upright base
Recorded January 31, 1989 at Club Lingerie, Hollywood, CA by Rik Reeder
MC: Steve Whittaker
Mastered by Bob Michaels at Pacific Coast Sound Works, W. Hollywood, CA.
© 1996 Lowen & Navarro.
All rights reserved. Unauthorized duplication is a violation of applicable laws.
All rights for Marion Place Music and Salsongs administered by Bug.