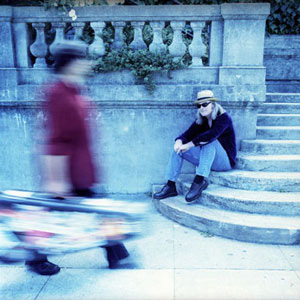 The Evolution of All The Time In The World

We didn't exactly take time off between our previous studio album, Scratch At The Door, and this one. In the intervening six years, we focused on touring, working on other projects, living our busy family lives with our young children, building relationships, ending them, and moving repeatedly. We put out two live albums and a Christmas album, and had simply stretched ourselves so thinly that there wan't much energy for another album.

That was until a March, 2003 series of conversations with producer-songwriter-musician Marvin Etzioni led to a decision to kick start our record company with a fan-funded album of new material, followed by an album of cover tunes. The idea clicked instantly, and we raised enough money to record and promote both albums properly. We owe Marvin a tremendous debt of gratitude for the inspiration.

By the time the dust settled in July, 2003 from Dan's fourth move in a year, we only had about six songs at the ready, including Raining In My Eyes , If You Loved Me Like That , Green Haired Girl and three songs culled from the Jacob Young sessions of 2000 -- Devil's In The Details , Opposite of Everything and Something More Than This. We obviously needed more.

Compass Point had been started in 2000 (or possibly earlier) and was persistently unfinishable. We convened to put it out of its misery -- either finish it or scrap it -- and pounded out the remaining pieces in a Thai restaurant in September 2003. Eric brought in Grace Notes in November, just finished with co-writer Jenny Yates, and we debuted both songs at the Barns of Wolf Trap in Washington DC that month. Now we had eight.

Early in 2004, we dusted off two of three lyrics given us by Charles John Quarto a year earlier -- If I Was The Rain and Old Riverside. Charles John is a poet and lyricist par excellence, with whom we had written "Open Your Heart" for Broken Moon in 1993. His words are vivid and cinematic, nearly three-dimensional. In about half an hour, the two songs essentially wrote themselves. If I Was The Rain needed only minimal editing -- a line here and there rearranged, and a second bridge by Eric. Old Riverside fell out in a single stroke that took about as long to write as it took to play. So by February 2004 -- a month before recording commenced -- we had ten songs.

Three other older songs were still sitting unfinished -- Legacy and Cold Outside from 2000-2001, and Emergency , all started by Dan between 1999 and 2003. In all three cases, he was stuck on second verses and bridges. Sitting at a computer (not his normal writing mode) he hurriedly filled in the blanks and figured he could "change it later". He never did.

We had always toyed with recording "Love" Song, our nasty he-said-she-said breakup ballad and figured we would add it to the list of songs to cut. Now we had 14. Eric capped things off with a new song inspired by his initial reaction to his March, 2004, ALS diagnosis -- How Mighty Is The Silence -- and brought in an outside song intended for the "covers" album - All The Time In The World, written by Iowa City singer-songwriter Dave Moore, whom we have still never met. We had ten or eleven other outside songs intended for the covers record, but didn't record them in the same sesions as planned. All The Time In The World came out so well that it set the bar for rest of the recordings, and as we progressed it emerged as the title track -- the phrase and sentiment that encompassed everything this album meant to us.

So now we had sixteen songs, WAY more than we needed. We've always liked the idea of generous albums, but 16 songs clocking in at around 75 minutes might try anyone's patience. So, at the end of the day, we held back Something More Than This and are making it available as an exclusive iTunes digital download. And we decided to hide "Love" Song on the album, buried in the electronic nether lands. It's on there. You just have to work to find it. Happy hunting.
Produced by

John Whynot

with Lowen & Navarro.
Recorded March - May, 2004 by

John Whynot

at Stagg Street Studio, Van Nuys, CA; Cue Recorders , Falls Church, VA; Electricdog Studio, Valley Village, CA and Jamnation , Mar Vista, CA.
Mixed May - June, 2004 by

John Whynot

at The Palm Door, Mar Vista, CA. Mastered by Mark Chalecki at Capitol
Photography by Jay Blakesberg . Cover design by Dan Navarro . Management - Mike Gormley / LA Personal Development / e-mail: lapd@lownav.com
Eric Lowen - 12-string & 6-string acoustic guitars, Dobro, mandolin, vocals
Dan Navarro - Acoustic guitar, percussion, piano, vocals
Phil Parlapiano - Accordion, organ, acoustic & electric pianos, harmonium. JT Brown - Upright & electric bass. James "Hutch" Hutchinson - Electric & acoustic bass. Brett Simons - Upright & electric bass. Robbie Magruder - Drums. Don Heffington - Drums. Greg Leisz - Pedal steel & lap steel guitar. Colin Linden - Slide guitar. Eddie Hartness - Percussion. Scott Breadman - Percussion. John Whynot - Percussion. Richard Dodd - Cello. Eric Gorfain - Violin. Julie Murphy Wells, Michael Clem, Robbie Schaefer - Vocals.
Visit us on the Internet at www.LowenAndNavarro.com. Contact us at thewire@lownav.com
Colin Linden appears courtesy of True North Records
Please support ALS research generously until there is a cure.
© 2004 Lowen & Navarro. Marketed by Red Hen Records.