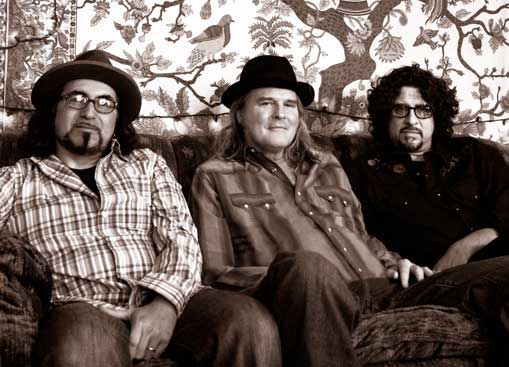 Making "Learning To Fall"

We thought All The Time In The World in 2004 would be our final studio album of original material. It had always taken us ages to write songs we felt were worthy of recording, and things were getting tougher with Eric's ALS progressing. And we felt ATTITW was a pretty hard act to follow.

Still, we had new songs. We cut some in a 2005 live-to-two-track recording, including "Learning To Fall" and "I Don't Believe In Yesterday". But finishing sessions were becoming increasingly more difficult for Eric. Then one day he commented, "I'm not sure I want live versions to be the difinitive recordings of those two songs." With that one sentence, a new studio album project was on. But how to do it?

A couple of months later, our old producer, Jim Scott, contacted Eric to show him his new studio facility in Valencia, CA, where Eric was now residing. Close to home, warm and inviting, stocked with time-tested vintage gear and TWO handicapped bathrooms, it was the perfect place for us. And it came with Jim Scott, who had masterfully produced and mixed our first four albums before graduating to Grammy-winning heights with Tom Petty, Foo Fighters, Santana and the Dixie Chicks, plus celebrated work with Wilco, The BoDeans and Whiskeytown. After a ten year hiatus, it was time to reunite with our old pal at the helm. We started in July of 2007, and resolved to take our time and not rush.

For a backing band, our first call was to Taras Prodaniuk on bass (Richard Thompson, Lucinda Williams). We had originally wanted to make Pendulum with him in 1995, but instead chose to work with someone else, and never came back to Taras, so we were a dozen years overdue to record with him. We returned to Don Heffington on drums, who had made Pendulum and part of ATTITW. And, of course, Phil Parlapiano covered multiple instruments, as he had done for most of our recordings, plus live work since 2004. This time Phil's name would go on the front cover. He had become that important to us.

With Eric's diminishing hand movement, we had the need—and the opportunity—to work with other guitarists for a change. As we had needed guitar help onstage (from David Glaser, Grant Tye, Phil Hurley and Kenny Edwards, in recent years) we now needed support in the studio. Greg Leisz (DaveAlvin, Joni Mitchell) played steel, electric 6-string and 12-string and acoustic guitar on several songs, as did Doug Pettibone (Lucinda Williams) and Phil Hurley (Stonehoney), in some cases with all three of them on the same song. The wove their parts in and out of one another like precision pilots, making for some of the finest arrangements on any L&N album.

The finishing touches came nearly a year later, as Jim was hunkered down with Dido between March and June 2008. When he was unavailable, we were deftly aided by his engineer, Kevin Dean. Kevin guided the record to the mixing stage during the last two months of recording. The record was mixed on weekends when Jim wasn't working with Dido (thanks to his wife, Carol Scott, for understanding) and was finished just in time for the Falcon Ridge Festival in Hillsdale, NY in July, 2008.

Produced by Jim Scott with Eric Lowen & Dan Navarro
Engineered by Jim Scott and Kevin Dean / Mixed by Jim Scott at PLYRZ / Mastered by Richard Dodd at RichardDodd.com
Recorded July 2007 - June 2008 at PLYRZ Studios, Santa Clarita, CA / Additional recording May 2007 at The Long House, Northridge, CA
Photography - Henry Diltz, Elizabeth Lilja, Tanya Salolsky, Laurie Brown / Cover design - Dan Navarro

MUSICIANS

Eric Lowen - Vocals, guitar, percussion / Dan Navarro - Vocals, guitars / Phil Parlapiano - Pianos, organs, harmonium, accordion, mandolins, guitar

Greg Leisz - Electric 6- and 12-string, acoustic & pedal steel guitar, Dobro and banjo / Doug Pettibone - Electric & lap steel guitar / Phil Hurley - Electric guitar / Taras Prodaniuk - Bass / Rafe Bradford - Bass ("A Place Where I Belong") / James "Hutch" Hutchinson - Bass ("I Still Believe", "Learning To Fall Again") / Don Heffington - Drums & percussion / David Ewart - Violin ("Learning To Fall") / Wendy Waldman - Harmonies ("Our Last Chance") / Vocals on "I Still Belive" - Julie Christensen, Shawn Davis, Phil Hurley, Jeanne Jolly, Eric Lowen, Dan Navarro, Phil Parlapiano, Nick Randolph and Wendy Waldman / Vocals on "Learning To Fall" - Shawn Davis, Phil Hurley, Jeanne Jolly, Nick Randolph and The ALS Choir.

The ALS Choir is...Ali B. Olmo, Kathryn Skatula, Angie Jaree, Jim McMains, Moose McMains, Michael Monagan, Wendy Fraser, Dan Navarro, Joseph Navarro, Phil Parlapiano, John Ondrasik, Carla Ondrasik, Olivia Ondrasik, John Ondrasik Jr., Eric Lowen, Sam Lowen, Annie-Claire Lowen, Thomas Ferguson, Katelyn Ferguson, Hailey Ferguson, Irene Moreno, Cate Moreno, Lindsay Mofford, Tucker Stilley, Andi Sass, Angel Ayala, Linda Murray, Brett Murray, Tess Murray, Jeff Renville, Martina Renville, Alyssa Renville, Janis Dallessandro, David Dalessandro, Carol Scott, Larry Carlson and Gretchen Lightfoot.