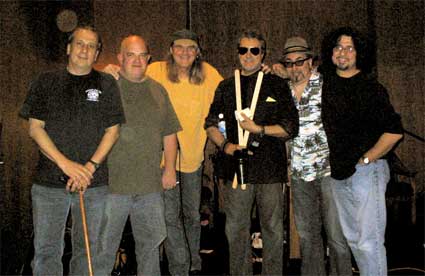 Making Hogging The Covers

When we approached our fans to help us finance "All The Time In The World," we had promised that the nest egg would also fund an album of cover tunes, (songs by other writers) to be recorded at the same time as ATIW. Once into the sessions, however, that proved too ambitious, so we decided to focus on ATIW and start the covers album later.

We spent the early months of 2005 mulling over songlists. Dozens upon dozens of songs were considered and discarded -- "Money Talks" by AC/DC, "Sweet Sixteen" by Billy Idol, "Things We Said Today" by The Beatles, "Hang" by the Mojo Monkeys, "Birds" by Neil Young, "Whole Lotta Love" by Led Zeppelin, "Live" by Mark Bryson (lead singer of our 1980's band Bon Mot) and many many more. Songs that survived the cut reflected not only songs we had sung onstage for two decades, but also songs that we were newly enamored wtih.

"Walk Away Renee" and "To Love Somebody" were among the no-brainers. They had both been part of the live set for many years and were fan favorites. "Blitzkrieg Bop" and "When Something Is Wrong With My Baby" had also been executed live, so they were on the list.

Eric brought some new ideas to the party, including some personal favorites like "Small Town Saturday Night", "Good Things" and "Drift Away." For the record, Dan was against recording "Drift Away" because it had just been a hit for Uncle Cracker. But he thought better of leaving such a great song off the album. Eric also tapped the catalog of fellow folkie Jack Williams, whose "Playing On The Runway" had been shown to us by actor/singer Ronny Cox. And ultimately he suggested resurrecting the Rockpile classic, "Teacher Teacher."

Dan brought some obvious choices like "Into The Mystic" and some curve balls, like "It'll All Work Out" and "The Way I Feel," as well as the previously unreleased, never-before-recorded "Fall" by Northampton's Joshua Meltzer, a gorgeous paen to love interrupted.

At times moving, at times silly, always soulful and never by-the-numbers, "Hogging The Covers" is a complete expression of homage to the music Lowen & Navarro love most.
Eric Lowen

- 12-string & 6-string acoustic guitars, Dobro, mandolin, vocals

•

Dan Navarro

- Acoustic guitar, percussion, piano, trumpet, vocals

Phil Parlapiano - Piano, organ, accordion

•

John Whynot - Organ, piano, sax, percussion

•

James "Hutch" Hutchinson - Bass

•

Jim Keltner - Drums and percussion • Richard Dodd - Cello.


Produced, recorded and mixed by

John Whynot

. Recorded June and September, 2005 at

Radio Recorders

, Hollywood and

Stagg Street

, Van Nuys, CA. Additional recording June, 2006 at

Palm Door

. Mastered by Mark Chalecki at Capitol
Cover design by Dan Navarro • Photography by Mark Waldrep, Jay Blakesberg, Dan Navarro and Jupiter Images.

Visit us on the Internet at www.lownav.com. Contact us at thewire@lownav.com
Please support ALS research generously until there is a cure.
© 2006 Lowen & Navarro. Manufactured and Marketed by Red Hen Records.